Coach Girls Soccer?
Are You a Parent of A Female Player?
Are You a Female Soccer Player?
Kristine Lilly, two-time FIFA World Cup champion and two-time Olympic gold medalist in Soccer. has partnered with Coerver® Coaching, the world's number one soccer skills teaching method. Together, they have created a brand new Ebook called, "Girls Soccer: Dream, Believe, Achieve". We'd like you to see how this Ebook can help you, therefore please watch our introduction video.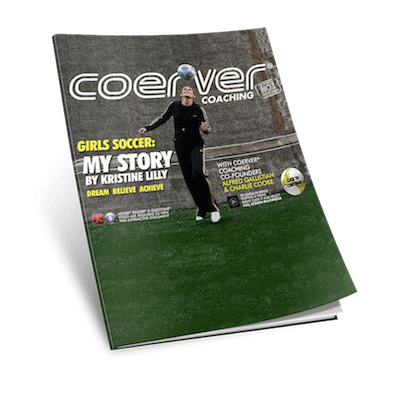 What you get with this eBook
74 Page Interactive Ebook – The Ebook is easily download to your computer, tablet or mobile device.
72 HD Videos – 72 HD videos that will help improve your players.
24 Practice Illustrations – 24 practice illustrations, showing you the practice purpose, set up, action, variations and important player and coaches tips.
Coerver Coaching's NEW Skills Wheel System – 5 ESSENTIAL skills that each of your players should have.
The Coerver Coaching Skills Test in HD video – The Coerver Coaching Skills test in HD video and accompanying illustration. Take your test right onto the field.
My ESSENTIAL Home Study Exercises – Inspire your player to practice more at home or on the go with their smart phone or tablet.
Here's a sample of what you'll learn...
What you should focus on in developing your players.
The difference between coaching boys and girls.
How soccer can teach your players to have a successful and happy life.
The essential life skills that are learned through the sport.
What I consider my greatest asset as a soccer player (it's probably not what you think it is).
Why it's critical to have fun while playing.
The differences between male and female players when it comes to praise and reprimand.
What to focus on for the different age groups.
What's important to players at each age level.
Coerver® Coaching's 7 Benefits For Female Players
Makes the game fun to practice and play.
Encourages a positive, attacking style.
Develops individual and small group skills applicable anywhere on the field.
Improves reaction speed with and without the ball.
Develops ball touch and control, coordination and flexibility.
Encourages good sportsmanship and respect for all.
Develops self-esteem and self confidence.
About the Authors Kristine Lilly, Alfred Galustian and Charlie Cooke.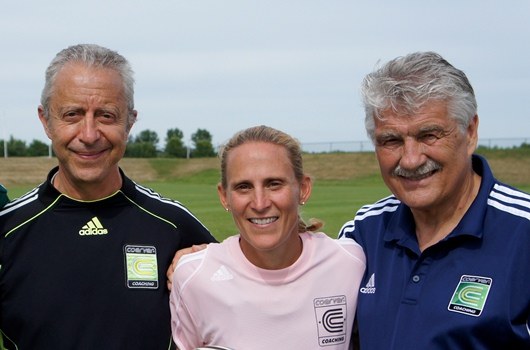 Coerver® Coaching co-founders Alfred Galustian and Charlie Cooke developed the program from 35 years of knowledge and work around the world at all levels of the game – from grass roots to leading federations, clubs, managers and stars of international soccer.
Kristine Lilly was a member of the United States women's national soccer team for 24 years. She is the most capped men's or women's soccer player in the history of the sport, gaining her 352nd and final cap against Mexico in a World Cup qualifier in November 2010. Kristine played in five FIFA World Cup finals, winning two World Cup championships. She also played in three Olympic Games, winning the gold medal twice. She was a four time all American at the University of North Carolina while also winning four NCAA National Championships.
Alfred Galustian has gained a reputation over the last 30 years as being one of the leading technical skill teaching experts in the world. This knowledge and reputation has seen Alf working with some of the world's leading federations and clubs, which includes the Premier League, French Football Federation, Football Federation Australia, Japan Football Association, Arsenal, Bayern Munich, Real Madrid CF and Newcastle United.
Charlie Cooke played for Aberdeen and Dundee in the Scottish First Division before joining Chelsea in the English First Division, where he played for the next 11 years. He made 380 league and cup appearances for the Blues and played in four cup finals, winning the English F.A. Cup in 1970 against Leeds and the European Cup Winners' Cup in 1971 against Real Madrid. He also played 16 times for the Scottish National Team and a World Select Team in 1979. He shares the Chelsea club record of three Player of The Year awards with Gianfranco Zola and in 2005, Chelsea's centenary celebration year; he was selected for the club's All-Time XI. Charlie is the co-founder of Coerver® Coaching and a Director in the Americas since its creation in 1984.
How the Coerver Girls has helped players/coaches like you

90 Day No Questions Asked Money-Back Guarantee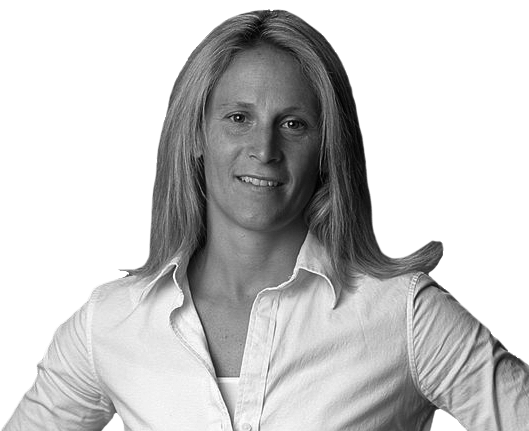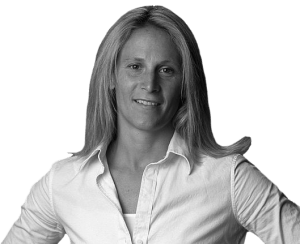 A word from Kristine
I've been using the Coerver Coaching method since I was a really young player. It certainly helped me in my career and I strongly believe it's the best way to coach players. I believe "Girls Soccer: Dream, Believe, Achieve" will help all female players improve their life and soccer skills.
*Disclaimer: Results may vary person to person
Kristine Lilly - Girls Soccer
Kristine Lilly - Girls Soccer
Play Like The Stars
Kristine Lilly - Girls Soccer
Play Like The Stars
Session Planner
Ebook with Videos