Improve your team's ability to play effective possession soccer.
The Coerver Rondo program is designed to help teach your side to retain possession of the ball, build team chemistry, and help your team to play with confidence and precision. Rondos are a crucial addition to regular training sessions as they develop players' speed, coordination and ball mastery.
Our program contains over 30 Rondo exercises which have been devised by Coerver founders Alf Galustian and Charlie Cooke. All of our drills come with standard and challenging variations to make them suitable for a variety of ages and skill levels.
Each Rondo is explained with videos and diagrams, allowing them to be easily understood and implemented into your coaching routine.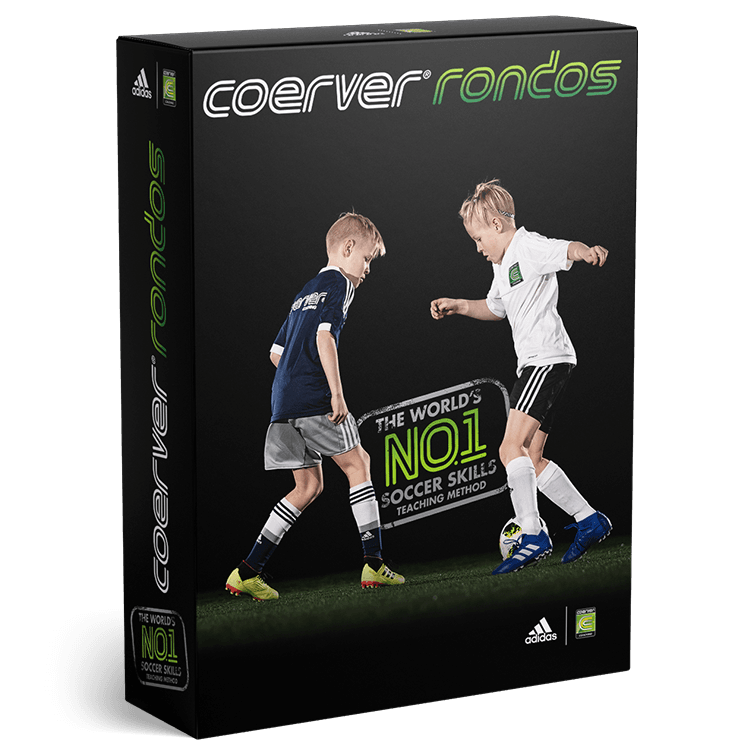 Why youth soccer COACHES need to teach Rondos
Rondos are widely used by the best professional coaches and clubs in the world, with them being credited as the "most significant and important part of Guardiola's training ground routines". "Every training session at Man City, at Barcelona and at Bayern begins with a Rondo", they are a "fundamental part of the development of Guardiola's teams" (Tifo Football 2018).
No other training exercises compare to Rondos in terms of their ability to improve so many parts of a player's individual skill and team-play simultaneously. Barcelona manager and ex-player under Pep, Xavi Hernandez, described them as "the best exercise. You learn responsibility and learn not to lose the ball". The Coerver Rondo program demystifies the drills and exercises used by the footballing world's elite and offers them to coaches at all levels.
Your chance to improve is today.
If you want to elevate your skills as a coach, improve individual players' skills and techniques, all whilst improving your side's chemistry, confidence, ball retention and learning how to effectively close down the opposition, then look no further. Establish a routine and clear path for progression in your training sessions and see the results on matchday.
Purchase our Rondo drill pack and start advancing your team and your training sessions now.

Unconditional Money Back Guarantee
We're so confident that you will improve, that we're willing to offer a no strings attached, no questions asked, 6-month Guarantee.
If you're not completely satisfied with the material, simply let us know and you'll get a full refund.
If you've read this far, it's clear that you take your skills and game seriously. All that's left to do is take the first step and order now…
1
Is this an online training program?
Yes, all our training is digital, and you can access it 24/7 with any smart phone/laptop/desktop/tablet. Also, because we use digital programming, you'll get your training instantly after your purchase.
2
Is it for any age group?
Yes, it's for all age groups. The earlier you start practicing the better. For younger players we recommend using with a parent. It's also great for coaches to help demonstrations in their practises or to give as homework.
3
Is it only for elite players?
No, it's for players of all abilities, from beginner to elite.
1
Do I need any equipment?
All you need is a ball, a smartphone, laptop, desktop, or tablet and an internet connection.
2
How long will I have access to the online workshop lessons?
Forever!