A coaches review by Gary Parkinson.
Everybody's got to start somewhere. There must have been a day, early in the last century, when Salvador Dali first picked up a paintbrush in the Catalan town of Figueres; eight decades later and 80 miles south, the young Xavi Hernandez enjoyed his first kick of a football.
Those geniuses went on to change the world, but few people can make an immediate impact alone, no matter what their potential. Dali went to art classes, Xavi went to FC Barcelona's la Masia academy. Before making his mark, literally or figuratively, each young man attentively listened to his elders, picking up what he could to build a basis for brilliance.
That's where the coach comes in. Each one of us who stands in front of a group of players, feeling their expectations and their eyes upon us, has a great responsibility to stimulate their interest and maximise their potential. As managers have told international players before big games, it's natural to feel nerves – their absence would mean we didn't care. But if we are prepared, we can do our best.
Luckily, even the novice volunteer coach can tap into a wealth of experience, accumulated by experts over decades and approved by legends up to and including Johan Cruyff and Franz Beckenbauer. Coerver coaching is the best way to improve young players of any ability; similarly, the easy-to-follow method is suitable for coaches with any level of experience.
FIRST SKILLS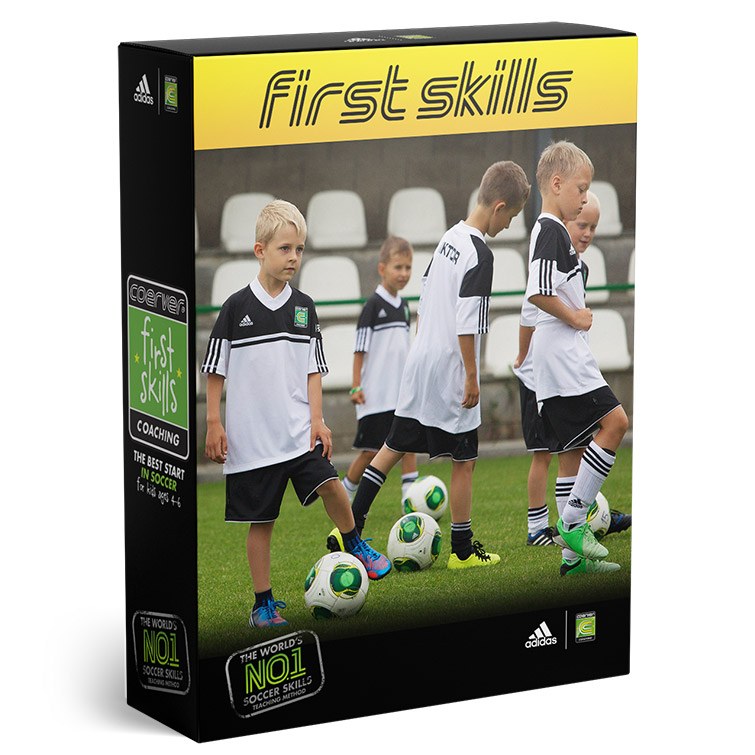 That includes complete newcomers to coaching, for whom Coerver has produced a brand-new program called First Skills. It's designed not only to improve your players but also you as a coach. Your correspondent has been there – going from excitedly agreeing to help with coaching, to standing on a field mystified and somewhat terrified and wondering what to do. You can be better than that.
The First Skills program will tell you how to prepare for practices, including how to plan what you'll do during your precious time with the players – like how long to assign to each task. It will provide you with a full range of drills and techniques, designed to make practices challenging and fun for players of all abilities. It will do pretty much everything for that first practice except lace up your footwear and follow you out there – although having said that, Coerver programs are available on your mobile phone or tablet, so you can check them as you go along.
Speaking of "as you go along", the help doesn't stop with that first session. The First Skills program also explains the importance of motivation and positive feedback to your players, suggests how to 'disguise' the repetition work your players will need to improve their skills, guides you on the best ways to coach groups of mixed ability without excluding anyone, and lays out the main topics that your age groups will need in order to develop. And as they do, so will you.
As its name suggests, the First Skills program will take young players through those vital but mystifying first steps. With your help, they will learn how to kick the ball not just powerfully but accurately. Having done that, they will learn how to dribble, and with your simple but effective drills they will learn the skill at the very heart of the Coerver technique: ball control.
After that, First Skills will help you teach them to take their first excited steps into more complicated manoeuvres that will become embedded in their ability – things like the inside cut, which will show them how to change direction while keeping possession of the ball. Imagine how many times in a match, let alone a career, they will use that skill. And they will be able to thank you for it – and you will be able to thank them, for as they learn to play, you learn to coach.
OFFERS
Looked at that way, it feels like it's worth a lot more than $37. But that's all it costs for three months of access to First Skills – all the online resources, the drills and skills and practices and advice honed from 30 years of Coerver coaching. As a season lasts longer than three months, you could choose a lifetime access pass for $97, which will quickly pay for itself – if only in saving you hours of scouring the internet for drills and tips which aren't as good anyway.
NEXT STEPS
When you've got to grips with First Skills, and want to expand your knowledge base, there's much more to discover. Consider the Coerver Ultimate Bundle, which combines the Session Planner, Make Your Move (a 1v1 survival kit to help your players beat their opponent), Improve Your Game (for solo practice away from the group), Play Like The Stars (a how-to on significant moves as made famous by football legends) plus extra advice on goalkeeping and girls' football. See more on the Ultimate Bundle.
There's plenty to learn, and not just for your young players – for you, too. Every day's a school day if you want to expand your mind. Dali and Xavi never stopped learning, so why should you?
Gary Parkinson is a journalist and youth coach. garyparkinsonmedia.com @garyparkinson
For more information view First Skills, the Ultimate Bundle or visit our shop.